In the high-stakes world of iGaming, making a digital mark isn't just about having cutting-edge games or a sleek platform. It's about being seen in the crowded digital landscape, and that's where our expertise comes into play. With over two decades of mastering the SEO game, we know just the right moves to make the magic happen.


One of our go-to plays? A solid Off Page SEO Backlinking Strategy. It's the behind-the-scenes work that propels iGaming platforms to the top of search rankings, ushering in a flood of organic traffic.
We recently partnered with an iGaming client, ready to up the ante and drive that crucial organic traffic to their platform. The goal was clear: elevate their online presence and get the dice rolling with more players on their site.
Armed with a well-crafted Backlinking Strategy, we set the stage for a game-changing move. The outcome? A jackpot of over 6,900 organic traffic hits, opening the floodgates to a new wave of engaged visitors ready to play.
Ready to unveil the winning strategy behind this SEO success story? Let's dive into the nitty-gritty of how we played the Off Page SEO game to a tee, showcasing the power of a robust Backlinking Strategy in the fiercely competitive iGaming domain.
The Background
Our iGaming client sought to improve their organic search visibility and drive more traffic to their site. They had previously faced challenges in attracting a substantial organic audience due to the highly competitive nature of the industry keywords.
That's where our expertise came into play. The target was clear: unlock a surge of organic traffic and elevate their brand amidst top search rankings.
The Objective
Our mission was clear: catapult our client's iGaming platform into the spotlight and rev up their organic traffic. The roadmap? A robust Off Page SEO and Backlinking Strategy. By weaving a network of high-quality backlinks, we aimed to not only elevate their search engine rankings but also create a buzz that resonates with the gaming community. The end game was to not just drive traffic, but to stir a wave of organic visitors, over 6,900 to be precise, each one a potential player on their platform.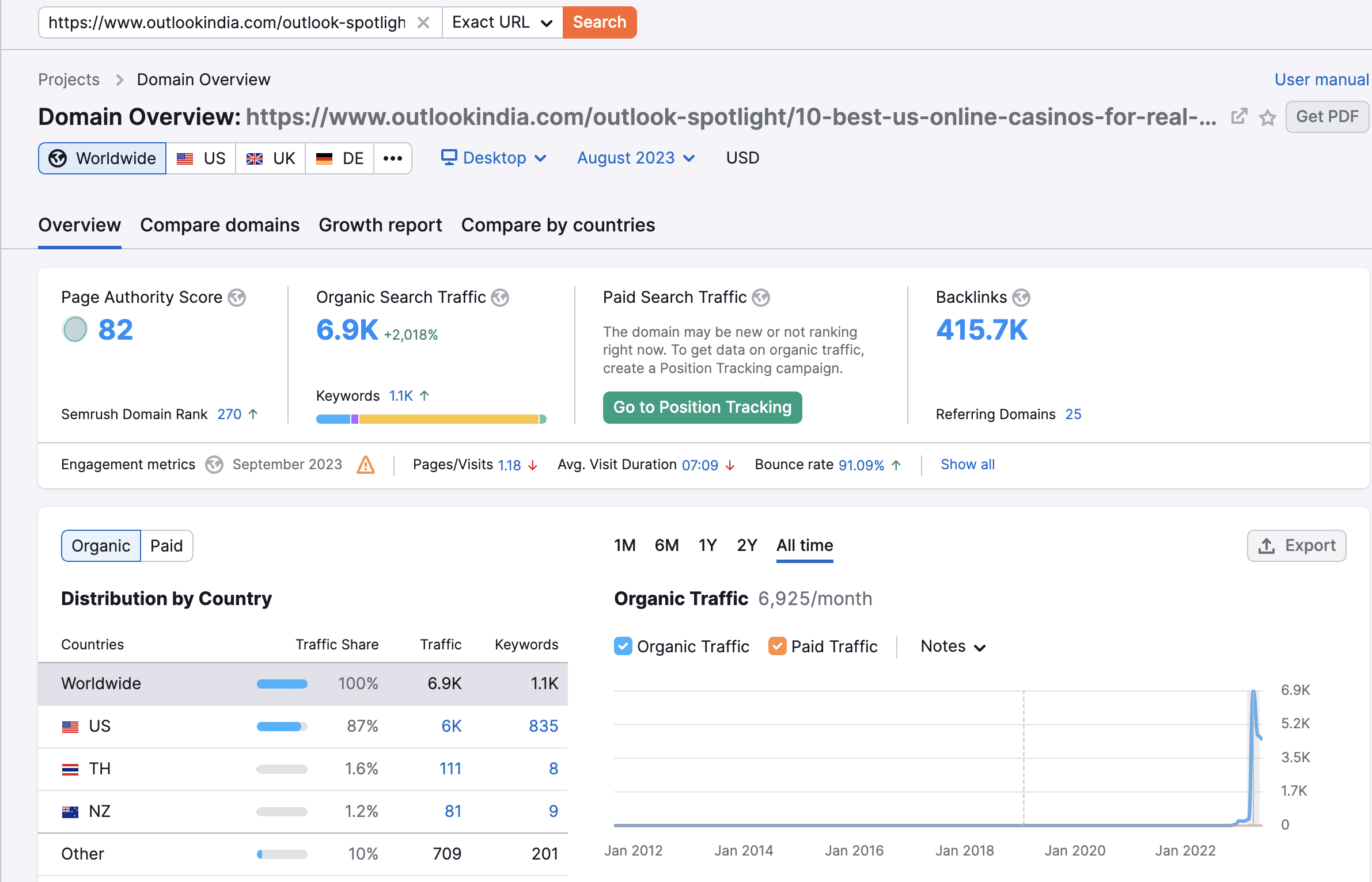 The Backlinking Strategy
We implemented a backlinking strategy focused on acquiring high-quality, relevant backlinks from authoritative websites within the iGaming niche. Our approach entailed the following steps;
Research and Identification: We conducted extensive research to identify high-authority, relevant websites within the iGaming sector that accept guest posts. Our criteria for selection included domain authority, traffic, and relevance to the iGaming industry.


Content Creation: Our team of skilled writers crafted engaging, informative articles tailored to the interests of the target audiences of the identified websites, while subtly incorporating the client's brand and a backlink to their platform.



 

Outreach and Placement: We reached out to the owners and editors of the selected websites, pitching our guest post ideas. Once approved, we provided them with the well-crafted articles for publication.



 

Monitoring and Analysis: Post-publication, we monitored the performance of each backlink, analyzing the traffic and rankings to measure the success of our strategy.



 
The Off Page SEO Results


Our Off Page SEO efforts truly shined through in this campaign. Within a short span of time, the Backlinking Strategy we implemented didn't just meet the objectives, it surpassed them by a significant margin. Here's a snapshot of what we achieved:


Organic Traffic Surge: Our prime focus was on driving organic traffic and the results were astounding. The strategic placement of guest posts on high-authority iGaming websites funneled over 6,900 new organic visitors to our client's platform. The influx of organic traffic was a testament to the potent impact of our Backlinking Strategy.


Keyword Ranking Uplift: The website clinched the top spot on Google's ranking for 835 distinct keywords. This boosted the website's visibility immensely, enabling a broader audience to discover it with ease.The high-quality backlinks garnered through this strategy bolstered our client's domain authority. This, in turn, propelled their site higher on the search engine results pages for fiercely competitive iGaming keywords.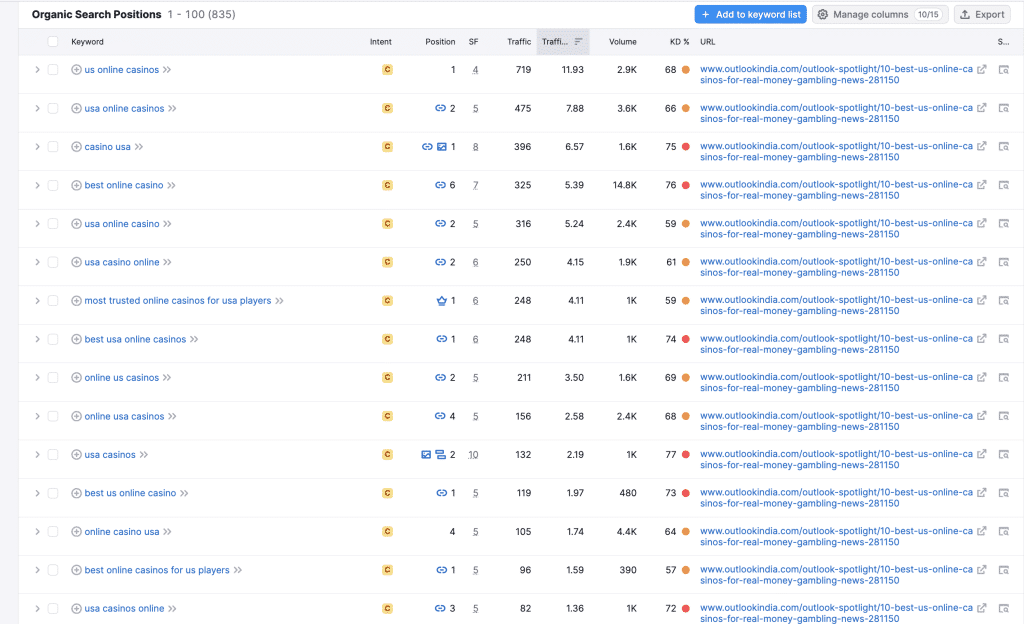 Engagement Metrics: With more relevant visitors landing on the website, engagement metrics saw a favorable uptick. The bounce rate decreased while the average session duration increased, indicating that the traffic was highly relevant and interested in the offerings of our iGaming client. A significant majority of these visits, around 87%, originated from the USA, affirming that our strategy at Feature Digital effectively targeted the desired audience.


Backlink Profile Enhancement: The campaign significantly enriched the client's backlink profile. The backlinks acquired were not just numerous, but of high quality and relevance, aligning perfectly with the ethos of Off Page SEO.


This journey from strategizing to seeing real, tangible results was exhilarating. The numbers spoke volumes, and the enhanced visibility our client enjoyed in the organic search landscape was a direct endorsement of the meticulously crafted and executed Backlinking Strategy. The success underscored the critical role of Off Page SEO in carving a strong online presence in the competitive iGaming domain.

Final Thoughts


Our journey with this iGaming client showcases the transformative power of a robust Off Page SEO and Backlinking Strategy. Through a meticulously crafted guest posting campaign, we didn't just aim for the stars, but hit the mark, driving over 6,900 new organic visitors to our client's platform in just a short span of time. This wasn't just about numbers, but about crafting a strategy that resonates with the audience and skyrockets visibility in a fiercely competitive digital playground.


Our approach was simple yet effective: Identify high-authority domains, create engaging, value-packed content, and establish authentic connections for guest post placements. Every backlink secured was a strong endorsement of our client's brand, significantly bolstering their domain authority and propelling them up the search engine rankings ladder.


This success story isn't just a testament to our team's expertise, but a clear indicator of how the right Off Page SEO and Backlinking Strategy can unlock doors to a deluge of organic traffic. It's about building bridges in the right places, ensuring a steady flow of organic traffic, and carving out a prominent space in the digital realm.


Our client now enjoys a surge in organic visitors, better search rankings, and an expanded sphere of influence in the iGaming industry, all thanks to a well-thought-out backlinking strategy. This case underlines the essence of SEO – it's not about quick fixes, but about laying a solid foundation for long-term, sustainable growth. And when done right, the results can indeed be spectacular.