At the end of each year, we at Feature Digital LTD conduct an "Annual report" for all our clients. In our latest findings, we have discovered some truly mind-blowing facts regarding our link-building efforts and the direct impact on our client's organic ranking results.
We Revamped the Content Creation Process
Part of the new strategy we implemented in 2021 was related to the way we create the content. For example, in every article we create, the content writer must conduct proper research and provide credible external links that establish credibility to bolster your website's standing. In this way, we make sure our content is going to provide true value to the readers.
Anyone can predict whether the S&P 500 chart is going to move up or down in the following weeks, but can your article explain the fundamental cause behind the shift upwards or downwards? And how will it impact the US Tech sector in the near future? Our content writers make sure to provide hard-hitting information backed by credible sources.
How Our Articles Go Viral?
In our reports, we reviewed all of our published articles in the previous year and uncovered a sizable upsurge in organic links referencing our articles! Our articles typically average 3-6 quality backlinks from other sites. This means other websites recommend our content as a credible source for their articles and that delivers a dramatic boost for our client's website organic ranking results. Screenshot from the report: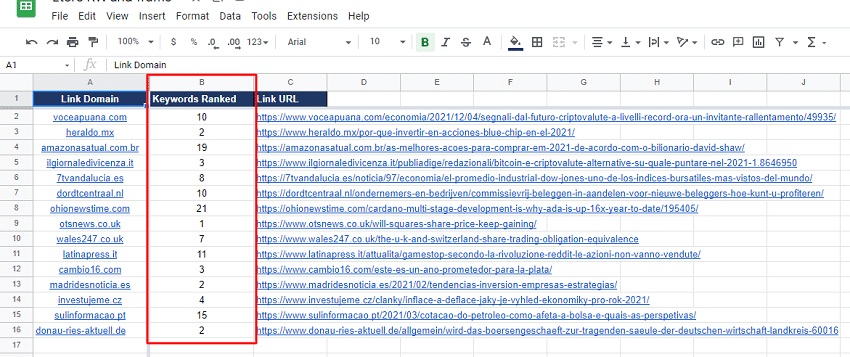 As depicted above, our articles boast a range of 15-21 industry-related keywords that are proven to rank. Simply put, our articles are thoughtfully crafted with the Google search engine results pages in mind.
HOW DO WE DRIVE ORGANIC TRAFFIC TO OUR CLIENTS' WEBSITES?

As depicted in the screenshot above from 2020, global organic traffic was at 2.2 Million. However, in 2021 the global organic traffic dramatically rose to 4.2 Million. This is a whopping  100% increase over a year-to-year comparison.
The vast increase in traffic is also due in part to our multi-lang SEO approach that delivers content in various languages to maximize geographical reach and viewership.
How we Deliver A Sizeable Increase in Conversions
Our content delivers guaranteed results backed by numerous research efforts on our behalf. We've analyzed 2 months periods of simultaneous online Adwords campaigns vs our SEO campaigns and the results were astounding.
Our SEO campaigns proved to deliver a dramatic increase in conversions, specifically when pertaining to organic traffic of more than 12%. After all organic traffic is highly sought after by marketers due to the higher Click-thru-ratio and conversion rates as opposed to paid traffic.
We consistently deliver thanks to our honed expertise in Search Engine Optimization (SEO). Apart from crafting truly informative and engaging content, we also put a lot of work under the hood into SEO. With billions of search queries to process daily, good high-quality content sometimes isn't enough to make your website stand out and rank well on search engines
In our process, we compile all of the pertinent info related to your business and target audience to deliver optimum results. We craft all of our articles primed to deliver the valuable bits of info that search engines reward with consistent 1st-page search results.