For this case study, we will analyze an article entitled "10 Best Online Casinos In Canada Ranked For High Payouts & Bonuses " published on Outlook India's website and examine the strategies and techniques used to increase visibility and organic rankings on Google.
This article attracted an impressive 8,400 visits, reflecting its popularity with target readers. 93% of this traffic came from Canada demonstrating its success at reaching specific geographic groups.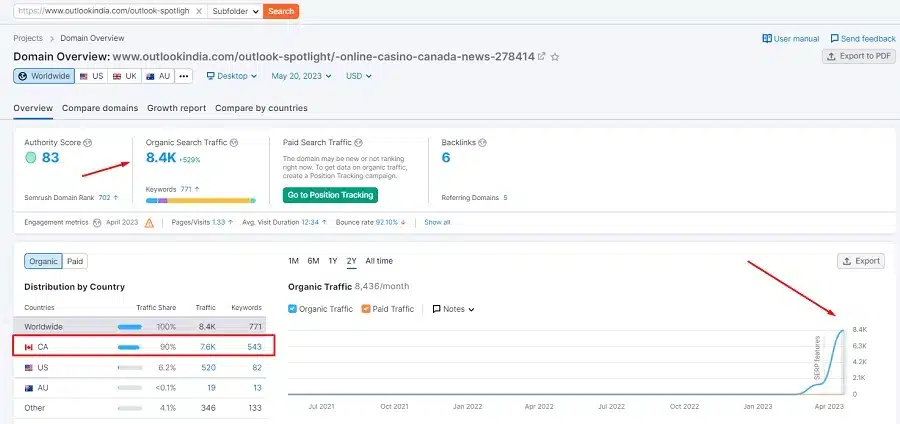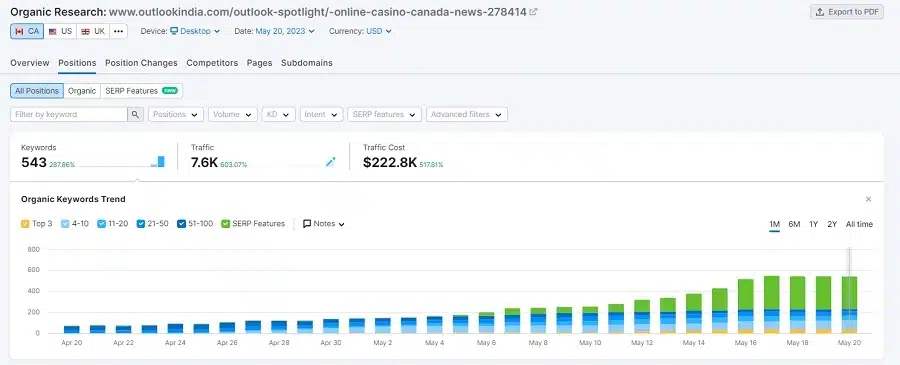 It has achieved top Google rankings for 431 keywords, increasing its visibility and potential reach. By targeting multiple relevant terms for its audience appeal and organic discovery potential.
Here are some of the keywords and their search volume: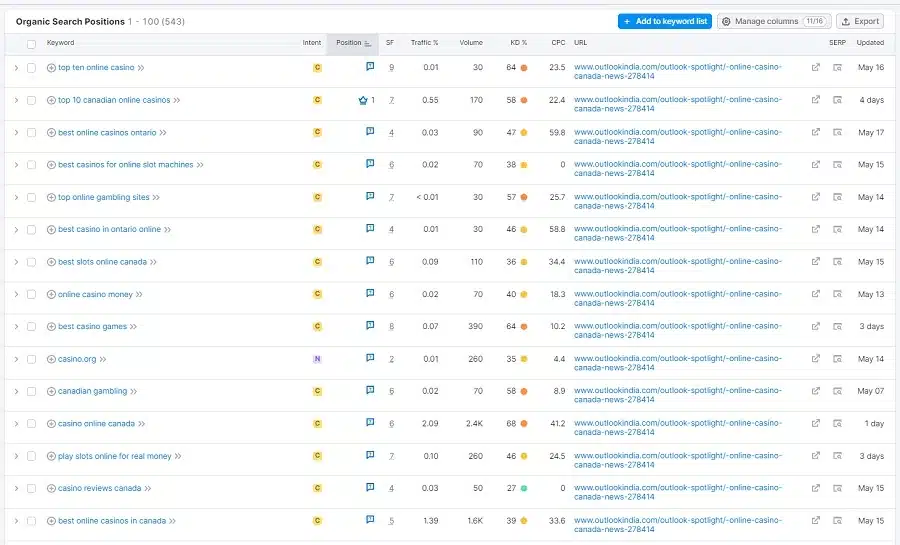 Our SEO Strategies Were Implemented:
Keyword Research: Extensive keyword research was performed to identify high-demand and relevant terms related to online casinos and Canada. Once identified, these were integrated into the article's title, headings, meta tags, and content in order to optimize its visibility on search engines.
On-Page Optimization: This article was optimized for on-page elements, such as title tags, meta descriptions, heading tags, and URL structure. By making sure these elements accurately reflected its content while including targeted keywords that increased its searchability.
Quality Content Creation: The article focused on creating valuable and informative content about online casinos in Canada. By sharing exclusive insights, expert opinions, and up-to-date news stories, the piece established itself as an authoritative source, increasing its chances of generating organic backlinks and social shares.
Link Building: To strengthen the credibility of this article and boost search engine rankings, a link-building strategy was put into action to secure quality backlinks from leading gambling industry websites. These backlinks contributed positively to building its audience as well as to enhancing search engine rankings
The article  "10 Best Online Casinos In Canada Ranked For High Payouts & Bonuses" which was published on May 6, 2023 serves as a great example of successful SEO implementation. If you want similar results for your articles or website, talk to us here.